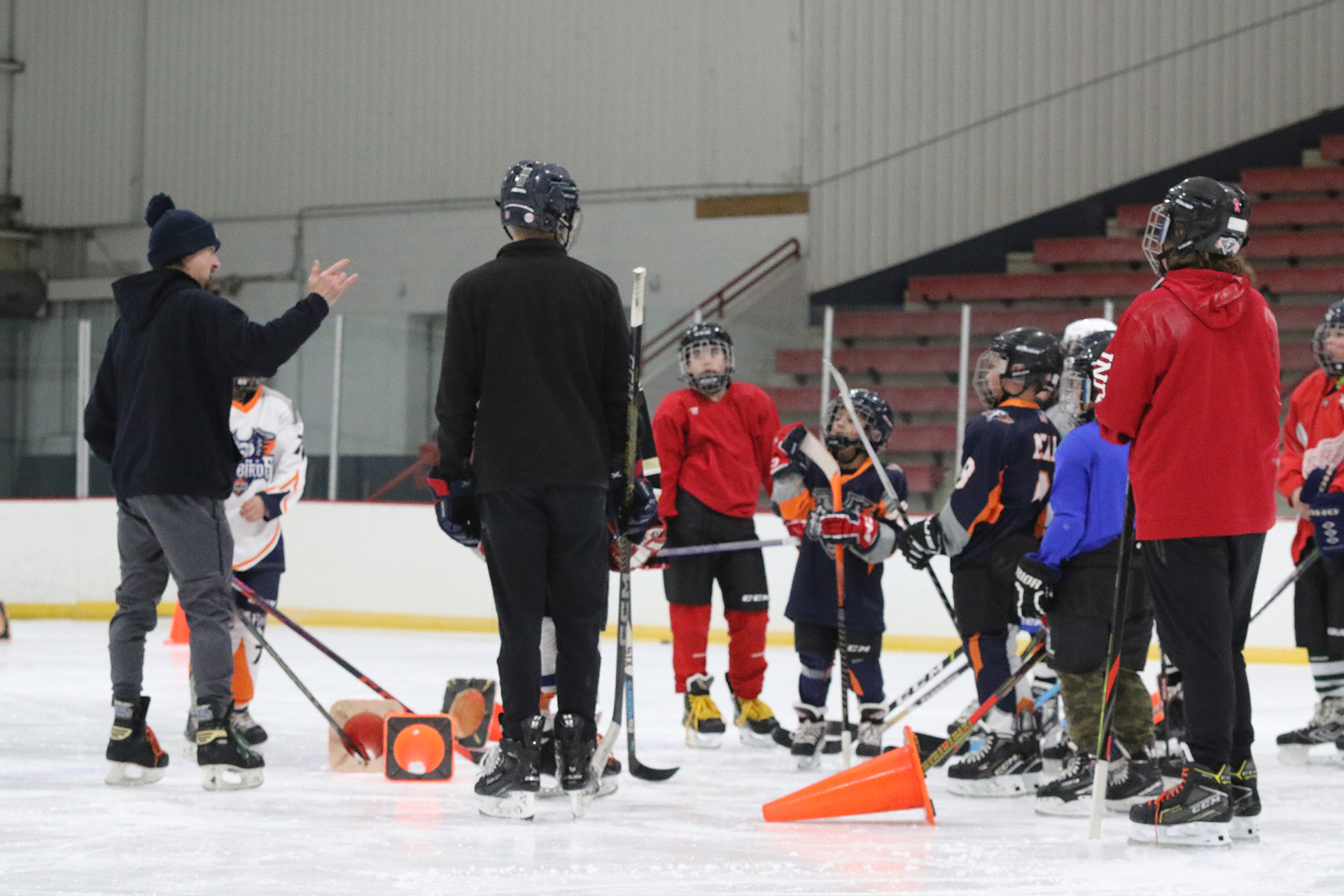 My name's Mick Carroll.  I, along with many assistants, lead the Future Firebirds.  About myself…  I started coaching youth hockey in November 1999, as an assistant in the Flint IMA Sabres youth hockey program, at the former Flint IMA Sports Arena, now known as Dort Federal Event Center.  I officially earned my first USA Hockey coaching card in 2001.  I remained active with the IMA program, which was renamed GFHA in the late 2000s, until 2016 when I moved to Flint Iceland Arena to head the learn to play program, which has transformed into the Future Firebirds, a Learn, Play, Have Fun program.  My goal is for us to be much more than a learn to play, and we are.
In between my start in 1999 until present, I've done a lot of things, been involved in many facets of growing youth hockey, went to many coaching education clinics and workshops, attended power skating schools, coached at various levels and in various capacities including a successful stint as a goalie coach, and earned a Master's certification with USA Hockey.  I'm always learning and putting that knowledge to work.
Earning my Master's certification wasn't an easy task but attending the required week long symposium was an educational experience in itself.  It was there I met Scotty Bowman, the greatest and most winningest coach in NHL history.  After he gave his presentation, a hand full of coaches, including myself, hung around and learned from the real master some of the keys to his success.  I use them today.  Writing a thesis, which must be submitted within six months after attending the symposium, then approved by USA Hockey, was another requirement.  Also, being a level 4 (advanced) coach for at least one year was another.  I received my Master's certification in 2006.
In the fall of 2006, I was offered an internship with USA Hockey's U/17 US National Team at their National Team Development Program facility, which at the time was located at the Ice Cube in Ann Arbor, MI.  The USNTDP houses two teams, U/17 and U/18.  It's a two year program.  It also involves the US National Junior Team, which competes in international competition against other nations.  My mentor was John Hynes, the then head coach of the U/17s and now the head coach of the Nashville Predators.  What an experience!  I learned so much.  Coach Hynes treated me as an equa!.  He gave me an open invitation to return after my internship, which I used.  Many of the players went on to play college and pro hockey, with 13 being drafted in the NHL in 2007.  Patrick Kane was the #1 overall pick.  Playing at the USNTDP should be every youth hockey player's goal, not winning a banner playing in Little Caesars or playing on a high school hockey team.  The USNTDP is the real deal and is now located in Plymouth, MI.  They bring in a new class of U/17s every year.
In between this and that, I've coached many teams including a 18/U team that finished 3rd in the states.  We lost in double overtime to the eventual state champion.  Even though we came up a little short, we finished 25-4, outscoring our opponents 200-68.  Penalties and selfishness prevented us from winning it all.  Some things you can't coach from the bench, regardless, because players decide on ice what they're going to do.  The coach's role is to manage the game properly to give the team the best chance to win.  And that I did in my most memorable game I ever coached……..
The game?  I was a fill-in because the team's coaches failed to complete their coaching requirements thus were removed from further coaching duties.  I was added just before the team's final game in the districts so they could finish the season.  The team?  IMA Sabres 12/U (Pee Wee house).  The situation?  The team hadn't won a game all season, including 0-3 in the districts.  The team we were about to play went undefeated in league play and needed one more win to advance.  Because the game was at our house and was delayed, their head coach tried to get us to forfeit so they could move on.  After all, the team I was about to coach hadn't won a game all season and many wanted it over.  To the dismay of the coaches I replaced who told me I had no business doing what I was doing because they weren't my kids, I refused and told them we're playing.  And played we did!  It was a script only made for fairy tales or Hollywood.  I coached my finest game and the kids played it to perfection.  WE WON!!!  We beat them, 4-3.  The final 40 seconds was a relentless 6 on 5 attack in our zone, as we chased but kept our composure until we finally cleared with 3 seconds to go.  Game over!  The kids first win after going 0-23!  I was numb but beaming inside with what had just happened.  And the kids?  They celebrated as if they had just won the Stanley Cup!  The other team's coach?  He went nuts, tossing sticks and chairs on the ice and refusing to congratulate us.  We went on to win 7 more games, ending the season with a tournament championship!  Their coach?  A few years later, we were coaches on a team at Ice Mountain.  He reminded me more than once that we had no business winning that game.  That it shouldn't have been played.  Really?
During my coaching career, I've been involved with many teams, players, and coaches.  I've visited many arenas and been in many lockerrooms.  I could go on and on.  It's all been fun and rewarding but with the Future Firebirds, I'm having the time of my life.  The kids who come thru the doors and on the ice every Sunday morning, the Future Firebirds, they're the real deal!  Yeah, there's been a few before and at a different arena.  A few have went on to lead their future teams, wearing the "C" proudly.  Keegan and Drew captained their high school teams, Benny's playing at Lake Superior State, Will captained his 18/U AA team to a state title, something I didn't accomplish.  But being with Will when he was 5, picking him up off the ice when he fell, skating with him side by side, being his first coach, we did it together!  And the others, too!  Many memories made, and with the Future Firebirds, many more to come!
Mick Carroll